Fridge & Freezer repairs Wollongong
You could make a case for the fridge being the most important appliance in your house. It's certainly one that we use numerous times every single day. Can there be anything worse than a broken-down fridge? You can't afford to mess around or waste time when it comes to fridge repair. Choosing reliable, experienced technicians is crucial for getting back to working order as quickly, efficiently and affordably as possible. Wollongong Appliance has operated for over twenty-five years and, in that time, have serviced a variety of household issues. We service all brands; whether you're in need of Westinghouse or Fisher & Paykel fridge repairs, we guarantee high-quality results. Our experienced and highly skilled team attend to more than 10,000 jobs per year and are up-to-date with all of the latest industry practices and equipment. We understand that fridge repairs can be very time-sensitive and the sooner fixed the better. We strive to deliver fast and efficient results to all of our customers with quick response times and flexible appointments, allowing you to choose morning or afternoon fridge repairs at your convenience.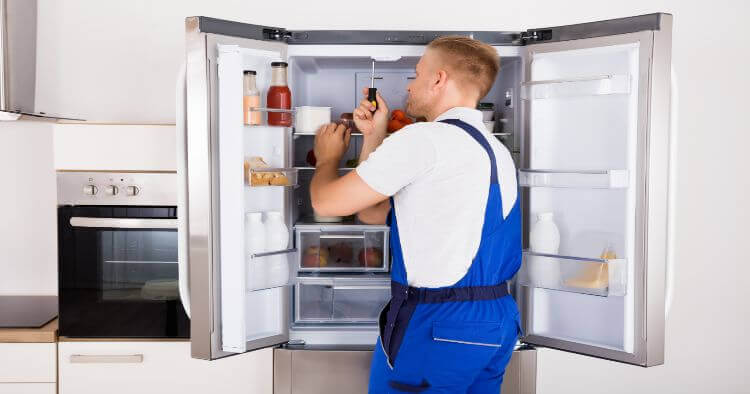 Our Affordable Washing machine repairs service
Keep ventilation behind your fridge to improve performance and save electricity, especially in warmer weather. Keeping food refrigerated at recommended temperatures inhibits bacterial growth and allows you to store food for longer periods of time. Disposing of old refrigerators is potentially harmful as the Freon coolant can damage the ozone layer. Discuss old refrigerator removal with your local council.
Dealing with Most Common Refrigerator Problems
Can you imagine what your life would be without a fridge? You would probably be able to handle a couple of days, but you would certainly get fed up with running to the shop every time you feel hungry or thirsty. Unfortunately, such risk really does exist. You can end up without a fridge if it stops working. In order to prevent that from happening, you need to treat it the right way, but sometimes even that might not be enough. Depending on the type and brand of the refrigerator, it can serve you well for years. But, some refrigerators are simply not made to last for a long time. That is why it's fair to say that the fridge problems start even before buying one. If you don't make the right choice, you can expect a lot of problems with the fridge in the future.
5 Common Issues with Fridges
The key to dealing with fridge problems lies in dealing with it right away. Instead of letting the issue persist, it's better to give a call to Wollongong Appliance Repair Service Support as soon as you spot it. Here are some of the most common indicators that the fridge is not working properly:
A fridge is warm on the outside

The fridge makes too much noise and/or vibrations

Ice builds up

Fridge is not capable of cooling down the temperature sufficiently

Water is leaking inside and/or outside the refrigerator
If you spot some of these issues, there's no time to waste. They will do their best to come around as soon as possible and take a closer look at the fridge. You can be sure that our team members have the tools and the knowledge to take care of any refrigerator issue, no matter how difficult it might be. In order to ensure that no big problems happen with your fridge, there are some things you could do. Actually, the solution is very simple – treat your fridge the right way and it will serve well.