Dishwasher Repair Specialists in Wollongong
A dishwasher is a staple of the modern kitchen. In the past, manual washing required physical scrubbing to remove dirt and stains, now you have the easier, faster and more reliable option. Like any other appliance that is used daily, problems and faults can throw off the balance of your entire household. That's where Wollongong Appliance Repair Service comes in. We have over thirty years of hands-on, industry experience and have dealt with a variety of dishwashers repairs and services. We provide dishwashers repairs and service on all brands. No matter if you need Blanco, Bosch, Whirlpool or Fisher & Paykel dishwasher repairs – chances are we've seen it all before and are perfectly equipped to fix it. Wollongong Appliance Repair Service was established in 1988 and in the thirty years since then, we have gained vast experience dealing with a variety of white goods issues. Our friendly, highly skilled field technicians attend to over 10,000 repairs per year. We have the knowledge and experience to promptly and efficiently perform dishwashers repairs and get your kitchen back to working order.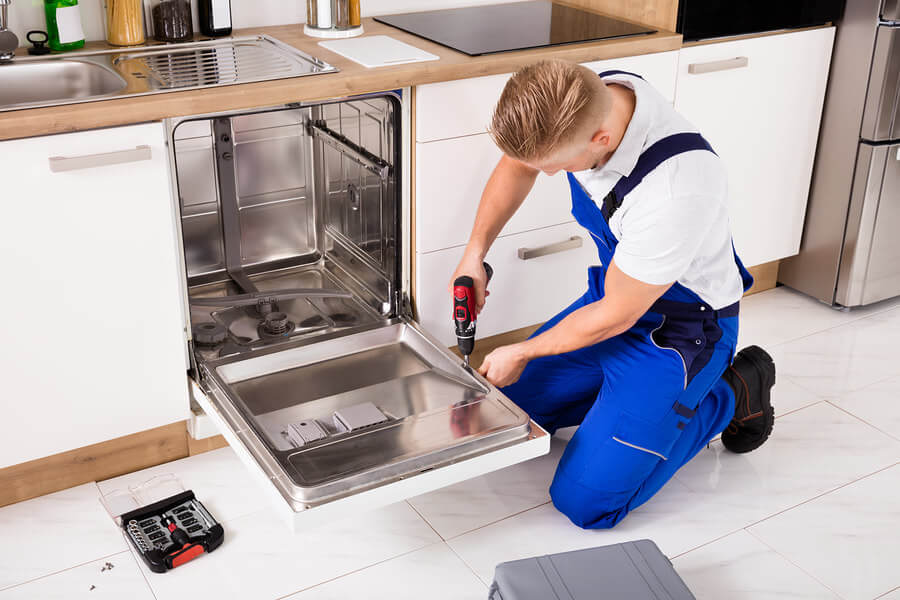 Tips to avoid dishwasher repairs
For best results, it's important to clean the basket filter and the holes in the spray arms every few months. This will help improve the overall performance and help you avoid dishwashers repairs. Staying on top of a simple step like this can save you from spending money further down the line. It's quick and easy, so why not? We strongly recommend a full clean and service every couple of years to remove the build-up of harmful germs and grease than can directly cause performance issues. It's crucial that you never use hand-washing detergent in your dishwasher. This can create large foam bubbles, which will eventually leak and cause damage.
Dishwashers are a regular part of the equipment in the kitchens
In fact, most people can't imagine life without them. They save you quite a lot of time and energy, which you would waste on doing the dishes. Instead, you can invest it in preparing your favorite meals. But, the fact that the dishwasher does most of the work on its own does not mean you can forget about it. Your dishwasher needs proper maintenance in order to sever you well for years. There are many things that can improve the life cycle of your dishwasher, starting from keeping the filters and screens clean, to paying attention that the dishwasher is in level with the ground. Furthermore, you also need to pay attention to which washing powders you use, as some of them may have a bad impact on the device. Still, even if you do everything according to the plan, your dishwasher might end up broken. The best way to prevent this from happening is to do checkups from time to time. Unfortunately, you can't do this on your own. You neither have the tools nor the skills to deal with it properly. We urge you not to try to open it on your own as this device uses both the electricity and water, which can be a dangerous combination. Instead of risking your life and the life of your dishwasher, a much better solution is to leave the inspection to the professionals. Not only will they do a better job, checking for the problems with the dishwasher, but they will also do it effortlessly and in the shortest amount of time. Of course, all of this is only true if you put your trust in a good service team, such as Wollongong Appliance Repair Service.